What is Greater Trochanteric Bursitis?
Whenever there is a medical term ending in "itis" it means that it is a condition of inflammation. So, greater trochanteric bursitis (GTB) is the inflammation of the bursa (fluid-filled sac) that is adjacent to the greater trochanter. It is one of the most common causes of hip pain. 
Hip Anatomy
The hip joint is a ball and socket joint where the ball or head of the femur inserts into the socket of the acetabulum of the pelvic bone. Right below the neck of the femur, and there is a bony prominence called the greater trochanter. It is the site of muscle attachments that help to move the hip joint. There are three bursae that sit just behind the greater trochanter, two with direct contact to the trochanter and one between layers of muscle. A bursa usually sits between a bone and soft tissue such as a muscle or tendon. A bursa helps provide cushion so soft tissue can glide over the bone during movement. The iliotibial band (IT band) is a band of fibrous tissue that runs down the lateral side of the thigh and can sometimes play a part in trochanteric bursitis as well.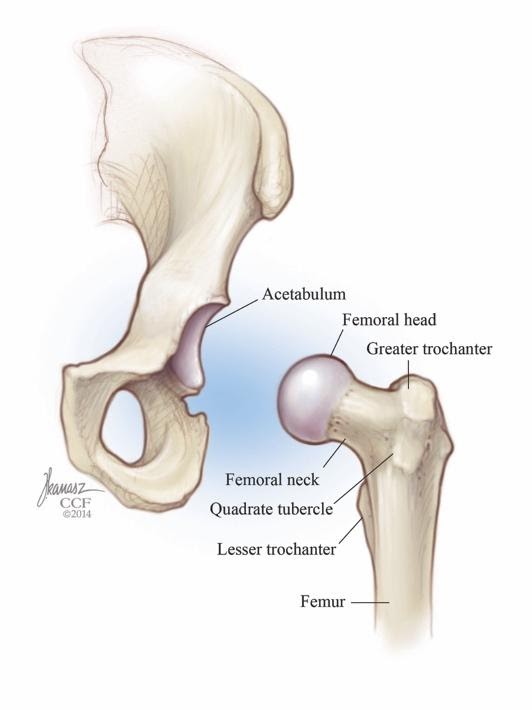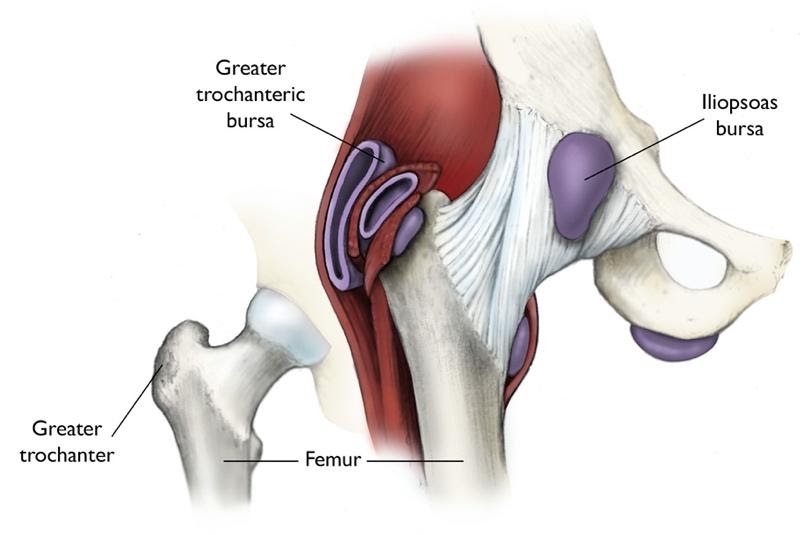 Risk Factors for Trochanteric Bursitis
GTB is often seen in moderately active middle-aged females who have recently increased their activity level. Additionally, it is common in runners, especially if they have a leg length discrepancy, are wearing improper footwear, are running on uneven ground, or using the improper technique while running. It can also be seen in athletes who play contact sports, caused by receiving a blow to the lateral hip.  
How Does Trochanteric Bursitis Develop?
GTB is most commonly due to overuse. When someone significantly increases their activity in a short time joints and muscles may take on a load that they are not used to handling; this can begin to cause irritation. There are also multiple anatomical or mechanical issues that over time can lead to increased stress and pressure on the bursa. Some of these include a tight IT band, abnormal hip or knee structure, abnormal movement with repetitive activity, or muscle weakness. As previously mentioned, a traumatic event, such as a lateral blow to the hip can also cause an inflammation of the bursa. 
What are the Symptoms of Trochanteric Bursitis?
Patients usually complain of an aching pain on the lateral side of their thigh. This pain may increase at night, especially if they try to lay on the involved side. Patients may also experience increased pain with going up and downstairs, squatting, walking long distances, and running. If the IT band is involved, patients may report a "Snapping" sensation in their lateral thigh.1
How is Trochanteric Bursitis Diagnosed?
Physical therapists and doctors use a couple of different tools when diagnosing GTB. They take into account the patient's subjective history, including when and how the symptoms started, the patient's activity level, and a description of the patient's pain. They may also conduct a physical exam to reach a diagnosis as well as ruling out other possible diagnoses. In patients who have GTB, palpation just superior and posterior to the greater trochanter will cause increased pain. Also, they will likely have pain with resisted abduction (moving the leg out to the side), resisted hip extension (moving the leg to the back), and resisted external rotation (rotating the leg away from the body). They may also have pain if they pull their knee towards their opposite shoulder.
How can a Physical Therapist Help with Trochanteric Bursitis?
A physical therapist will be able to evaluate the patient, discuss their goals, and come up with a plan of care to help the patient meet those goals. Since the cause of each patient's case varies, it is important to identify the main reason for the pain; if there is an underlying issue that is not addressed, the pain may return. 
Initial treatment will focus on educating the patient and helping the irritated area calm down. Patients will be educated on things they can do at home, such as icing the area and gentle strengthening or stretching exercises, and helpful practices, such as not sleeping on the involved side and sleeping with a pillow between the knees if sleeping on the opposite side helps try to calm down the area. Patients will also be encouraged to take a break from any activities that are causing the pain.   
As the patient progresses, there may be greater differences in treatment for each patient depending on their deficits. If they have muscle weakness or tightness, strengthening or stretching exercises may be prescribed. Manual (hands-on) therapy may be used to treat any soft tissue or joint impairments.  A shoe insert may be prescribed for someone who has a leg length discrepancy. Education on proper technique, body mechanics, and how to prevent overtraining can allow the patient to return to their activities with less chance of GTB returning. 
On average, a patient should expect to participate in physical therapy for 4-8 weeks.